THE INCREDIBLE PANAMA CANAL TRANSIT:
To transit from the Pacific Ocean to the Caribbean a tidy sum of $600 is required. That is reasonable considering sailing 11,000 miles around South America and Cape Horn or the Straits of Magellan. We used a cab driver for the check-in procedure and arrange for the transit. His cost was $50 and worth it as he completed the paperwork cha-cha in 3 hours. We could have transited within a week but we wanted to explore Panama City in greater detail so we requested a three week wait. It was also worth it. We had crews (and dear friends) from two other cruising boats join us as line handlers. One was Hebe with Ariel and Tim on board and the other was Que Onda with Bill. After we had Moonlight tied to the dock in Shelter Bay Marina, we spent the night with the air conditioner on for the first time in months. The next day it was back to Balboa to be line handlers aboard Hebe as they transited the canal. We spent the night on Gatun Lake which was very cool with the howler monkeys in the jungle sounding their usual ominous roars. Also on our transit with Hebe, we side tied with Marina Tiare with John and Amanda Neal. They are a professional yacht and it definitely showed. Check out their website for far more details then we could provide.
The morning of the transit MOONLIGHT is loaded with tires as fenders and ready for the Panama Canal.
And we were on our way to the Caribbean up three locks, first the Miraflores locks and then Pedro Miguel Lock while passing large tankers. We developed a new appreciation for their size and power while joining them in the canal locks and across Gatun Lake and the Gaillard Cut.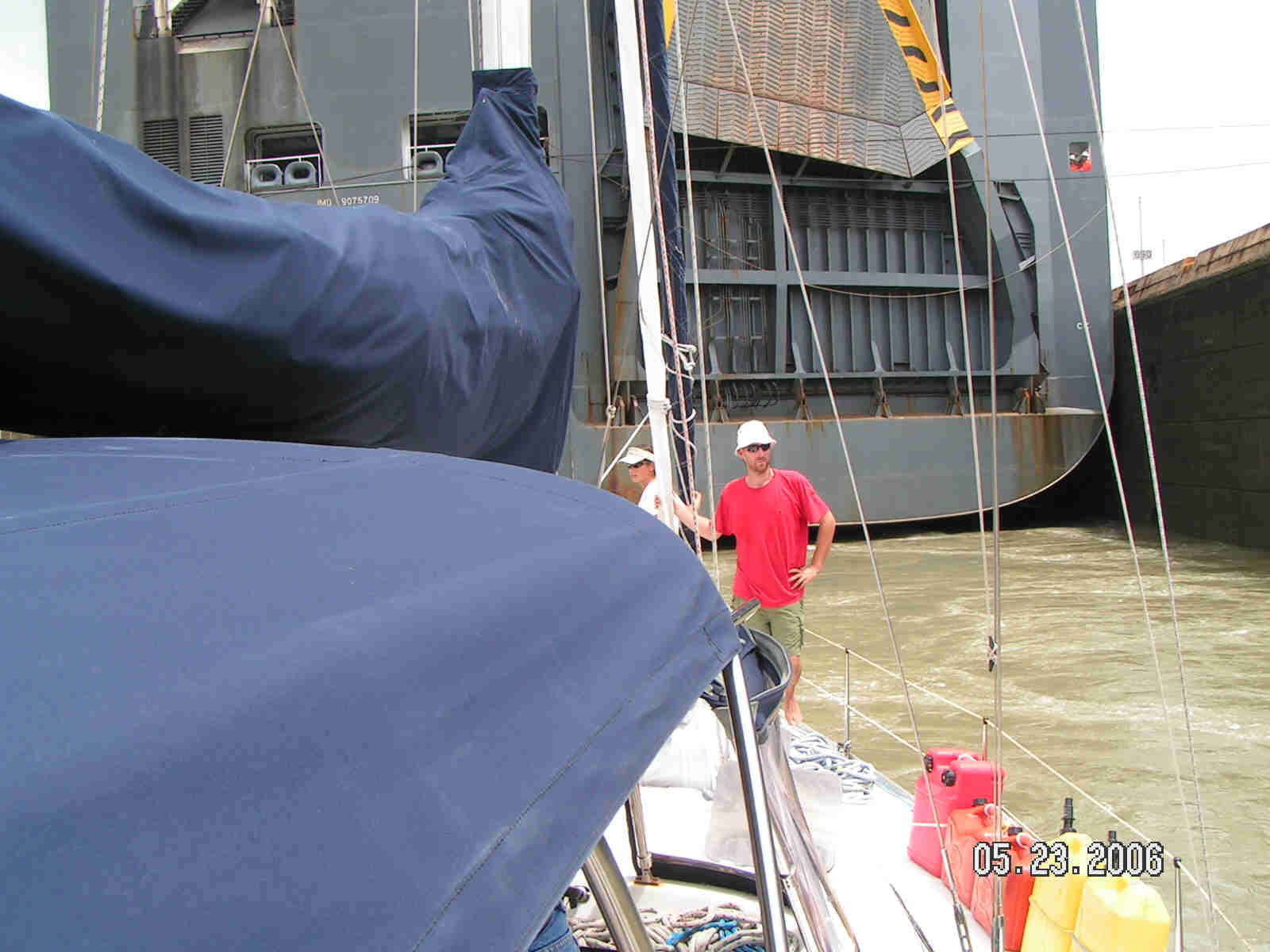 This ship was much closer than he appears. Just sliding by in the Galliard Cut.
Locking down in the three Gatun Lake locks, we were followed by a big red freighter. Only time we ever want to be in this position. Transiting the canal was easy and truly an enjoyable experience especially when we arrived at the last lock.
Our crew of Ron, Ariel, Bill, Yen and Tim made this a day long party even if Tim was busy kicking the skippers butt at chess.
Then the beauty of the last set of locks into the Caribbean Ocean was grand indeed.